Be a therapist
Heal yourself and others
Believe to be of divine prigin and passed down orally through generations, Ayurveda is the traditional holistic medical system in India. Ancient seers and natural scientists developed this system based on centuries of studies, experiments and meditations. Interested in traditional healing systems? Want to expand your knowledge of Ayurveda? Explore your journey with us.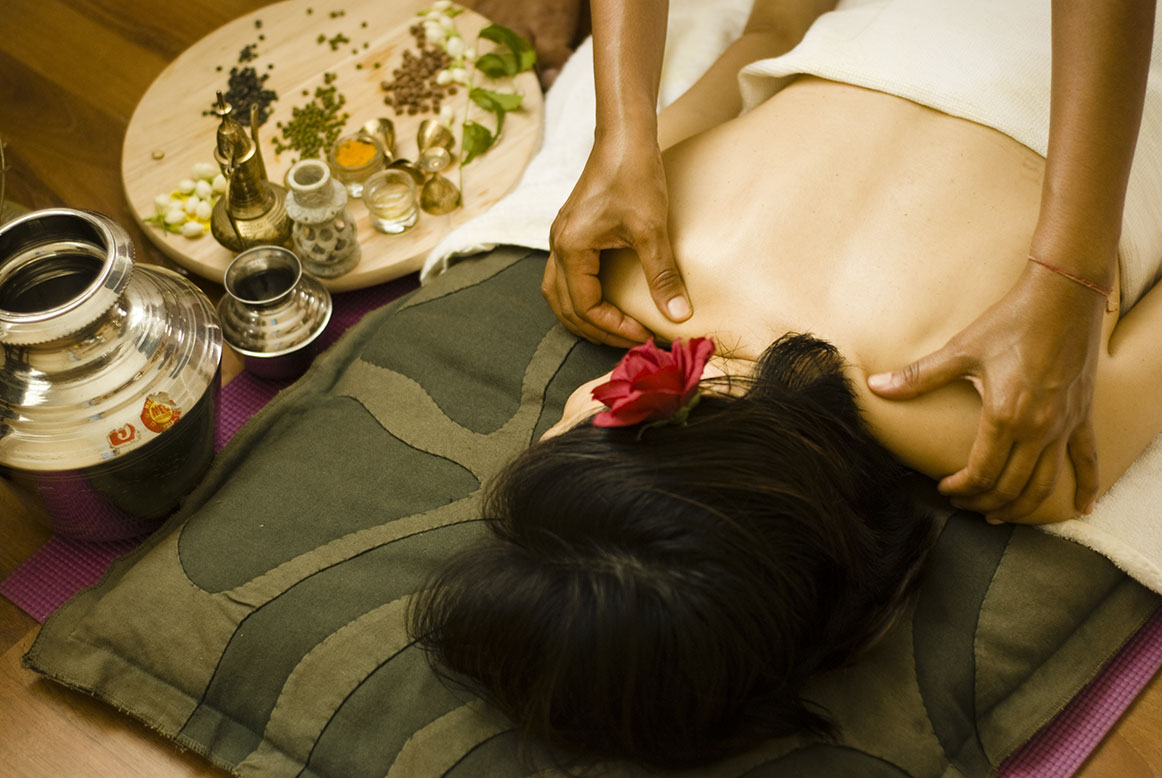 Professional Ayurveda Instructors
Our Ayurveda instructors are all highly trained and professional instructors, who are passionate practitioners of Ayurveda. They have taught a variety of students from all walks of life and from all over the globe. Most of them have aalso been teaching for over 10 years and thus are professional trainers, who know how to ensure that each student understands and assimilates the knowledge presented to them.
We are registered with the Ministry of Education in Malaysia
The Ayurveda Massage Therapist Course is registered with the Ministry of Education in Malaysia. Upon successful completion of the course, participants will receive the Ayurveda Massage Therapist Course Certificate and Transcript of the modules covered.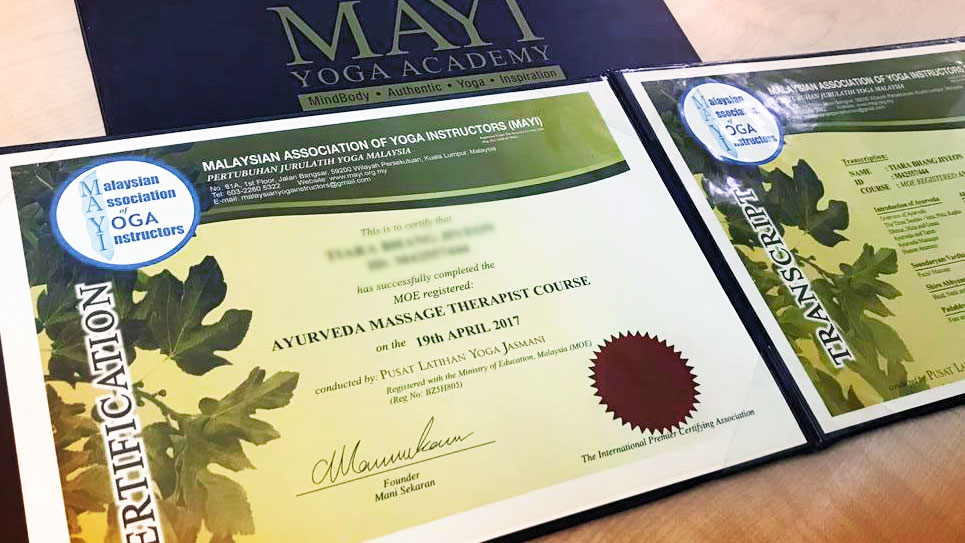 As a form of health maintenance, traditional Ayurvedic Massage
should be part of a healthy lifestyle
– MAYI AyurYoga –
Ayurveda Massage Therapist Course upcoming intake:
| | | |
| --- | --- | --- |
| Date | Venue | Duration |
| 15th October 2023 | Damansara | 5 Sundays |
| 22nd October 2023 | Bangsar | 5 Sundays |
| 19th December 2023 | Brickfields | 5 days |
What Will I Learn?
Professionally & personally
In this course, participants will learn ancient techniques involved in Ayurvedic massage therapy. Almost 95% of this course is hands-on. Sessions are highly interactive and include intensive coaching, hands-on/practical session, assignments, workshops, real client practice sessions and evaluations.

Topics covered in the course
Principles of Ayurveda / Ayurvedic lifestyle and Tri-Dosha theory/ Ayurveda and diet / Identifying Doshas in clients / Human anatomy / Understanding of herbs, oils and their various uses in Ayurvedic treatments / Usage of Ayurvedic equipment / Preparation of herbs, oils, doughs, and boluses / Analysis of Ayurveda massage techniques and their suitability for clients.
Ayurveda massage techniques:
Abhyanga Snanam (full body massage)
Pada Abhyanga (foot massage therapy)
Navara Kizhi (milk and rice massage with bolus)
Podi Kizhi (warm herbal massage with bolus)
Shirodhara (oil pouring on forehead)
Shiro Abhyanga (head, neck and shoulder massage)
Soundaryam Vardhini (facial massage therapy with mask)
Udwarthanam (dry herbs massage)
Janu (knee), Greva (neck) and Kati (lower back) Vasti
Swedana (steam bath)
This course is suitable for
The Ayurveda Massage Therapist Course (AMTC) is suitable for healthcare professionals including doctors, nurses, social workers, massage therapists, yoga and wellness instructors, sports coaches, as well as those who are interested in holistic healthcare. Those with personal interest can also enrol in this course.
We offer three different types of intakes catered to suit your needs:
Intensive
Five full days of continuous coaching. This is recommended for international participants or for those that wish to complete the course as quickly as possible.
Semi-intensive
One half-day session per week, over 5 weekends. The semi-intensive intake is best for busy executives who are unable to take leave from work or for those with a rigid weekday schedule.
Part-time
A 2-hour session per week, over 15 weeks. If you have a lot of commitments and are in no rush to complete the course, you can opt for the part-time course.
We offer both group and private intakes too. Contact us.
4 Reasons You Should Choose MAYI AMTC